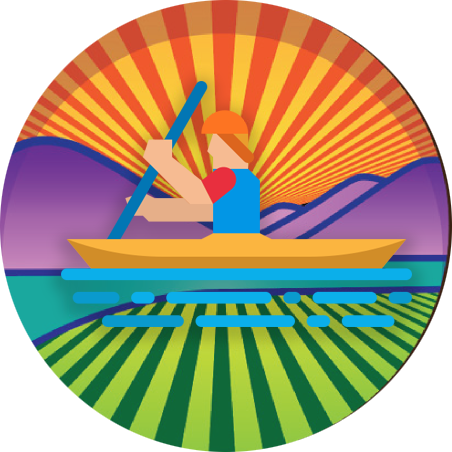 What makes a good river? Rope swings, secret swimming holes, ripe blackberries. The Applegate has it all.
Cantrall Buckley Park: 
This Applegate treasure offers 1.75 miles of river frontage. A large, riverside lawn invites picnics, BBQs—and cartwheels! The park also has playground equipment, botanical sculptures, interpretive signs, and a 20-foot diameter sundial: Stand in the middle and tell the time with your own body.
This park is the valley's largest access point and owes its existence to the love and perseverance of the local community. Since its inception in 1961, it has been beleaguered by flooding, brambles, politics, financial challenges, closures, politics—and even the course of the river shifting! Today, it is a flourishing and celebrated feature of life in the Applegate.
Provolt Recreation Site: Once a seed orchard for Doug Fir timber operations, this property is now being restored as a precious bit of public access river front. The flat "River Walk Trail" parallels the riparian zone and is one mile end-to-end. Chinook salmon spawn here in October.
McKee Bridge Swimming Hole: This small swimming area is spanned by McKee Bridge. Built in 1917, this endearing covered bridge is tied for the second oldest in Oregon. The current isn't particularly strong, but stones have been arranged in little "coves" to create serene swimming holes. A rope swing provides an adventurous option for entering the water, but is not for the faint-of-heart.
Wander to Applegate Lake…
With a shoreline surrounded by wilderness, hiking trails and wildlife, Applegate Lake is the cherished summertime idyll of valley residents. Its waters are clean, clear, well-stocked with fish and the temperature is pitch perfect: Cold enough to refresh, but warm enough to inspire lingering.
Whether you backstroke, paddleboard, or cast a line, you'll be floating over Applegate history. During the completion of this reservoir in 1980, the government inundated the old mining towns of Copper and Watkins. This stirred controversy among the residents, who were forced to relocate. With the conflict now in the rearview mirror, these days the lake has an atmosphere full of gleeful children, well-fed osprey and water-loving dogs.
"Those who have been against the project may now agree that it is at least a beautiful lake when filled and the snow-capped Siskiyou Red Butte mountains behind add to its luster," writes long-time resident Evelyn Byrne Williams (Back in Time, N8tive Run Enterprises)
For all its popularity, the lake's 18-mile shoreline also offers privacy. Glenn Richardson, the convivial manager of the lake's main hub, Hart-Tish Park, says "Even on weekends, there are a zillion little coves you can pull your kayak into and have your own spot."
GETTING THERE: Starting from Highway 238 in the town of Ruch, drive approximately 16-miles south on Upper Applegate Road.  The lake lies just beyond the dam. Signs for various pull-offs follow: Har-Tish Park (the lake's main hub), Watkins Campground, Copper "boat ramp" (formerly the road that led to Copper!), followed by Seattle Bar. Here the road turns to dirt and continues around the lake, offering numerous access points.
Camping: Applegate Lake has an array of camping options: single and group sites, as well as developed and undeveloped camp sites. Visit the Hart-Tish Park Campground website for more details.
Boating: Motorized: 10 miles per hour speed limit
Non-Motorized:  permits
Stand Up Paddleboarding (SUP): Stand Up Paddleboarding on Applegate Lake is a great way to take in big views of the Red Buttes mountains, as well as explore miles of private nooks along the lake's shoreline.
Local SUP-er Leslie Antley, says "The only time SUP-ing at Applegate Lake isn't fun is at 3:00 pm when you have to paddle against the wind—unless you want to strengthen your core!"
Didn't bring your SUP? You can rent one from the store at Hart-Tish park.
Kayaking: Pack a picnic in your kayak and find a private spot along the shore. Kayaks can be rented from the store at Hart-Tish park.
Fishing: Applegate Lake swims with Rainbow Trout, Crappie, landlocked chinook salmon, Largemouth Bass and Smallmouth bass Make sure you have an Oregon fishing license.
Birdwatching: Applegate Lake has numerous ospreys and two resident Bald Eagles
Swimming: The lakes temperature makes for an inviting swim. Hart-Tish park offers the most groomed shoreline, but there are other good access points around the lake, including French Gulch. Tip: Don your river sandals! The lake's shores and bottoms can be rocky.
Mountain-biking: The 17.2 mile trail around the lake has plenty of woop-te-doos to make for a thrilling ride. Schedule in 2.5-3 hours to complete the loop.
Hiking: The lake is surrounded by hiking options. Click here for more.
Hungry?
Aside from a small store at Hart-tish Park, food options are limited at the lake. Fuel up beforehand with a hearty breakfast burrito from a local's hangout, Sweets and Eats. Espresso and lunch-to-go can be found at Code 3, a small drive-thru coffee kiosk that offers a remarkable amount of food. There is also a small, covered seating area if you prefer to stay put. Code 3 is located in Ruch, right at the turn-off to the road that gets you to the lake. On the same plaza, you can go to The Ruch Country Store and fill your cooler with everything from kombucha to Coors.
An elegant way to cap off a great day at the lake is to stop at Cowhorn Winery on the way back.  Book ahead for "Paring Tasting" to get a woodfired pizza. Also, check their website for pop-up dinner events.
Want to know more about paddling in the Applegate?
Get in touch with the Applegate Paddling Club. Their goal is "to foster an active paddling community in the Applegate Valley, promote water safety and education, and enhance the valley's paddling areas through stewardship efforts."