'Wandering' where to eat?
wineries

food trucks

pop-up dinners

restaurants

cafes

stores

farmers markets

picnics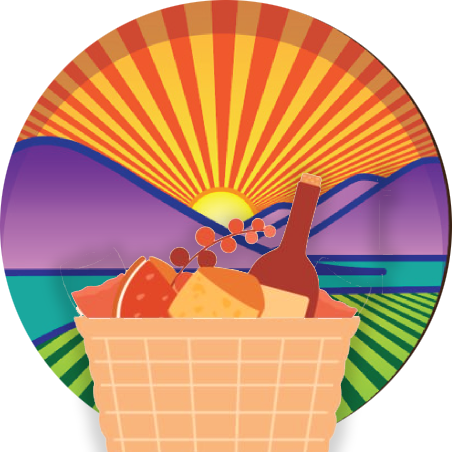 All of our wineries serve food, ranging from simple cheese-and-cracker plates to elaborate charcuterie boards to full-blown meals. Here are some of the highlights:
Red Lily Vineyards features a daily soup, a gorgeous charcuterie board, and Spanish-style tapas (to complement their Spanish-style wines!).
Wooldridge Creek Winery & Creamery is renowned for its charcuterie plate which features and an array of homemade and home fermented goodies, plus cheese made from their on-site creamery. Try their Fromage Blanc, one called Noble Bloomy, and an alpine-style cheese called Covino.
Cowhorn Biodynamic Vineyard and Garden: This winery features wood-fired pizzas (that showcase on-site produce!) paired with wine. Call ahead for reservations.
Schmidt Family Vineyards: The menu at this winery features pizzas, salads, and antipasto plates. The menu is available into the evenings during Friday Night Music.
Quady North: Enjoy French-style baguette sandwiches and a delightful charcuterie plate. Reservations encouraged.
Augustino Estate: The tasting room serves food items such as paninis, pizza, caesar salad, charcuterie plates and gourmet popcorn starting  Memorial weekend thru fall. Open Friday, Saturday and Sunday 12:00 to 5:00 Memorial Day weekend through fall.
Longsword: Nibbles at this scenic tasting room include a charcuterie "bento box" full of mix-and-match selections. You can also order a local favorite: Rising Sun Farm cream cheese tortas.
Walport Family Cellars: Gorgeous cheese board combos on offer—ranging from simple to deluxe.
Wild Wines: This one-of-a-kind winery offers fruit and herb-based wines. Pair them with three different types of empanadas, gluten-free cupcakes made by local bakery Paulazzo Pasticceria, or truffles from the local Supernatural Chocolate Company.
POP UPS & WINEMAKER DINNERS

It takes some advance planning, but Supper Clubs are a great way to dine out in the Applegate.
Vista 222 schedules regular dinners and events. Share a table with new people, take in the incredible view, and enjoy food curated with care.
Applegate Country Club: In addition to holding regular restaurant hours, the Applegate Country Club hosts occasional pop-up dinners. They also feature a Grab & Go fridge where you can find delicious meals at affordable prices.
Cowhorn Biodynamic Vineyard & Garden Supper Club:  This reservations-only supper club is available on Saturdays at 6:30 p.m. It is a highly-curated 5-course culinary experience designed in collaboration with Chef Tim Payne. Courses are paired with Cowhorn wines and guests have access to Cowhorn's Private Cellar. Confirm reservations 48-hours in advance.
Provolt Country Store & Deli: In addition to their usual offerings of paninis, soups, creative sandwiches and baked goods, this historic store also sometimes hosts pop-up Korean BBQ dinners on-site. Check their Facebook page for upcoming events.
Watch a video about this historic store here.
Rascals Bar & Grill: This locals hang-out has a regular menu, but also mixes things up with special dinner nights. The news seems to spread word-of-mouth, but you can call them direct at 541-846-9303. (Cash only with ATM on site)
FOOD TRUCKS AND FARM STANDS
Food trucks make regular appearances at wineries, farmers markets and special events. Also, keep an eye out for farm stands. Corn, flowers, greens and fresh eggs often make roadside appearances!
Applegate Evening Market: Choose from an array of food trucks at LongSword Vineyards every Wednesday from 5 p.m.-8 p.m. Enjoy live music and browse the art and produce stands. (seasonal)
Williams Farmers' Market: Every Monday, May through June from 4 p.m.-6:30 p.m.  July and August 5:00-7:30. September & October 4 p.m.-6:30 p.m.
Plaisance Ranch: The monthly "Wine Down" event at Plaisance Ranch makes for one of the most popular night's out in the Applegate. Live music, paired with good food, good scenery, and some of the valley's best wine makes for a festive evening. See the Wine Down schedule, plus other events, here.
Red Lily: Food trucks make a regular riverside appearance at Rock the River every Thursday throughout the dates of June 8th-August 31rst.
Wild Wines: Several music events throughout the summer showcase food trucks at this one-of-a-kind winery that specializes in fruit and herb-based wines.
RESTAURANTS, CAFES, & STORES

Lindsay Lodge:  Soak up the very essence of the Valley while dining with a view of the iconic green bridge spanning the Applegate River. Menu features locally-sourced wine and ingredients. A true Applegate gem. Check out their food blog for a behind-the-apron look at how their dishes are created!
Applegate Country Club: The name implies an exclusive and stuffy establishment, but this restaurant promises to "show what it means to be country."  A welcoming and relaxed ambiance, full of non-conformist charm and an incredible garden to sit in. Menu items range from kale salads, meatball and vegetarian subs, as well as creative pizza combos. Sunday night ribs. You can order in advance.
Pennington Farms: Pennington Farms serves turnovers and pies both savory and sweet—as well as cakes, cookies, brownies and berries grown on-site.  All these delights are housed in a charming red barn brightened inside by surfboards, sandals and beach art. Watch a video about Pennington Farms here.
Applegate Store & Café: This business is in an exciting transition. Stay-tuned!
Code 3: Colorful flags and an inflatable sky dancer might command your attention toward this drive-thru coffee kiosk, but the affordable and delicious eats will keep it. An astonishing variety of food comes out of this small structure—croissants, pulled pork sandwiches and breakfast burritos. If you prefer to stay put, enjoy the covered seating area nearby. Located in the Sunshine Plaza parking lot in Ruch.
Rascals Bar & Grill: This casual hangout with pool tables offers burgers made with local, grass-fed beef from nearby Plaisance Ranch. (cash only with ATM on-site)
Locals BBQ An open-air food stand offering grilled goodies. Located in Williams. Outdoor seating.
Sweets-N-Eats A family-run café, bakery, and deli serving breakfast, lunch and dinner. Nice outdoor seating area and cozy, country vibes.
Creekside Diner: You'll find pizzas, burgers and sandwiches at this tucked-in-the-woods café in Wilderville. Cascadia Winery pours its local selections on Sundays during the summers.
Supernatural Chocolate Company: At this sweet stop along Highway 238, you can enjoy award-winning chocolate and other baked goods. Gluten-free, dairy-free and vegan.
Whistling Duck Farm Store The go-to shop for regional products. Local farm bounty, and value-added products like salad dressings, dips and ferments. Check the freezer case for local meats and the occasional surprise: Octopus from the Oregon coast, prawns from Alaska—even Yak meat!
Williams General Store: This heart-of-the-community store dates back to 1897. One reviewer describes the shelves as "multiverses of flavorfully packed items." Another says, "These general stores are a dying breed. This one is TOP notch." Features wine, organic produce, local breads, coffee and other groceries.
Williams Country Store: Groceries plus the popular "Local's BBQ" –an open-air food stand offering grilled goodies and beloved jalepeño poppers. Their small hot bar and fridge features meals-to-go.  Outdoor seating.
Takubeh Natural Market & Agricultural Supply Based in Williams, this store offers hot coffee, hot breakfast, sandwiches and groceries—in addition to an array of merchandise.
Ruch Country Store: Located in Ruch's Sunshine Plaza, this is fairly complete grocery store with a produce section. They especially excel in beverages–fill your cooler with everything from kombucha to Coors.
Wilderville Store & Gas: A one-stop shopping experience right in the heart of Wilderville. Get gas, diesel and propane, along with a good selection of food items. Visit their website for summer events, including live music.
Hidden Valley Market The largest grocer in the Applegate, this family-run market features farm fresh produce, hand-cut meats, a deli and locally produced beverages.
Lindsay Lodge Tayberry Mojito
+/- 10 lemon balm leaves (muddled)

+/- 10 Pennington Farm Tayberries (muddled)

2 lime wedge or 1oz juice

1oz 8yr Appleton estates rum

1oz raspberry liqueur

0.25oz Simple

Top with Soda water
Meet our valley farmers at our local markets!
Applegate Evening Market: Choose from an array of food trucks and stands at LongSword Vineyards every Wednesday from 5 p.m.-8 p.m. Enjoy live music and browse the art and produce stands. (June through September)
Williams Farmers' Market: Every Monday, May through June from 4 p.m.-6:30 p.m.  July and August 5:00-7:30.
Photo Left: Peter Salant raises organic, grass-fed beef in the Applegate Valley. Tours of the ranch are by appointment only. Email: [email protected]
Wineries: Most wineries allow visitors to bring their own food and enjoy picnics on-site, but check ahead. Valley View Vineyards is a prime picnic spot with a big, grassy lawn and spectacular Applegate View.
Cantrall Buckley Park: Enjoy 1.75 miles of Applegate River frontage, complete with built-in BBQs and waterfront picnic benches. Playground equipment, hiking trails and botanical sculptures add to the delight.
Provolt Recreation Site: Once a seed orchard for Doug Fir timber operations, the area is now being restored as a precious bit of public access river front. Picnic benches are nooked throughout the park. The flat "River Walk Trail" parallels the riparian zone and is one mile end-to-end. Chinook salmon spawn here in October.