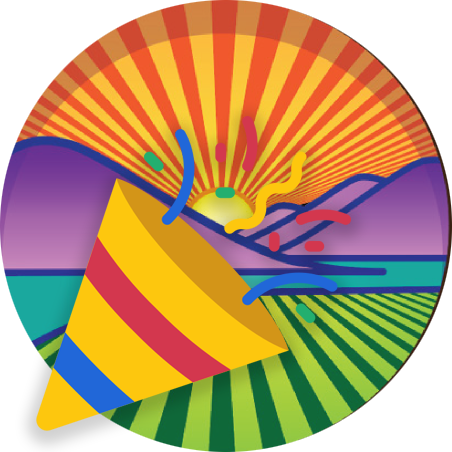 Annual Events
LongSword Kite Festival (May): The large field and laminar wind flow make LongSword Vineyard the perfect place to fly a kite. At this annual event, there will be face painting, Mother's Day crafts, live music, food trucks and general merriment.
Uncorked Barrel Tour (May & November): Come celebrate the growing season with a self-guided tour of the Applegate Valley Wine Country. Spring and fall are exciting times to time to visit our 18 tasting rooms. Enjoy food pairings, some featuring the local lavender bounty, like lavender-spiced mixed nuts and lavender-infused honey. T
Country Queer Summerfest (June):  Kick off Pride month in style at LongSword Vineyard with DJs and drag & performance artists, food trucks, aerialists, and a silent disco.
Starthistle Fly-in (TBA):  Colorful gliders fill the Applegate sky throughout the summer. This annual "Fly-In" attracts paragliding pilots from around the country for a week of socializing, just-for-fun competitions, and dinners. The pilots launch from Woodrat Mountain—one of the best paragliding sites in the country.
McKee Bridge Events: This beloved local bridge provides a beautiful and historic backdrop for holiday events and fundraisers. Check the McKee Bridge Historical Society's website for event dates and more.
The Lavender Festival (June & July): The Southern Oregon Lavender Trail Festivals occur annually over the course of two glorious weekends, one in June and one in July.  These weekends are scheduled during the height of lavender season when the fields are in their prime. Enjoy lavender products, live music and local wine pours at each of the six lavender farms.
Harvest Festival w/Pumpkin Chuckin' (Oct.): Celebrate harvest at LongSword Vineyard with our trebuchet pumpkin-launcher. Why? Because it's silly and fun 🙂
Live Music
The best way to stay current with the live music and events happening in the Applegate Valley is to visit winery, farm and farmers market webpages for listings. Fun is always being added!  That said, here are a few regularly held events.
Wine Down at Plaisance Ranch: People come from miles around to enjoy beautiful evenings of wine, music and food at the beautiful Plaisance Ranch. In fact, one Applegater described Plaisance Ranch's monthly Wine Down events as "the best party on the West Coast." The parties are held spring through fall.  Visit www.plaisanceranch.com and check their event listings.
Friday Night Music at Schmidt Family Vineyards: Beautiful grounds, a gorgeous tasting room, yummy eats, and inspired wines come together to make this a convivial venue to spend your Friday night with singer-songwriters. Music can be expected Fridays from 5:00-8:00 pm, year-round, but check their website to confirm.
Rock the River at Red Lily: One of the Applegate's most beloved events, "Rock the River" is as much a community-wide gathering as it is a riverside concert. Held Thursdays from June through August, you can enjoy food trucks, a spacious lawn, wines, Red Lily's in-house special "rosé mojitos."
The Applegate Country Club: Enjoy Friday night live music on their garden stage with pizza, ribs, and other house specials. Check their website for Open Mics and other special events.
The Lindsay Lodge: Enjoy live music with some of the best dining and riverfront scenery in the Applegate. Call for upcoming music events.
Valley View Winery: A great place to while away late afternoons with live music, food trucks, a lush lawn and one of the most iconic Applegate vineyard views around.
Wild Wines: This one-of-a-kind venue serves dry fruit, flower and berry wines and hosts a live music series in the summer.  Check their website for details.
Rascals Bar & Grill: This lively, locals-focused venue in Williams features full-band concerts. Call for details: (541) 846-9303.